Good day!
I'm Wayne Goertel, and I've served Hooksett as a member of the Hooksett School Board since March, 2020. As a School Board Member, I've actively engaged families, staff, administration, and other community members to provide educational content and support services, doing so in a transparent and fiscally responsible manner.
I've been a Hooksett resident for over twenty years. I live here with my wife and two children: a son in third grade and a daughter in Kindergarten.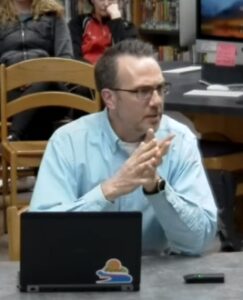 I previously served the town of Hooksett on its Budget Committee, 2018-2020, my second year as Vice Chair. The Budget Committee is elected to ensure the prudent appropriation of public funds. My experience with accounting and finance led me to produce materials to help the committee more easily find budget accounting lines that exceeded historical actual spending.
In addition to serving the town of Hooksett in elected roles, I have a long history of service as a volunteer. Currently, I serve the Hooksett, NH Cub Scout Pack 292 as Pack Chairman and Treasurer. Volunteering is a family affair! My wife Meredith has led a Den for the Cub Scouts since 2019, and also supports the Hooksett PTA as their Treasurer and a frequent event volunteer.
Prior to Scouts, I volunteered for over a decade with the Appalachian Mountain Club as a hike leader and instructor. I served on AMC's New Hampshire Chapter Executive Committee from 2009 to 2017, including roles as Vice Chair and Chair, representing 14,000 of AMC's members. I helped shape our Chapter's budget, ensured our volunteer activity leaders got the training they wanted, and supported AMC's mission to help people enjoy and conserve our forests, mountains, and waterways.
I also served for two years on the Board of the School District Governance Association of New Hampshire. SDGANH advocates, "Giving voters a voice by empowering elected school district officials to reclaim control over budgets and curriculum."
Professionally, I am a software engineer, having both a Bachelor and Master of Science in Computer Science. I've developed computer software to support a variety of industries: accounting, manufacturing, customer service, radiology, finance, and trucking.
By engaging our residents directly, listening to – and understanding – all perspectives, providing excellent transparency into our operations, and demonstrating an unparalleled personal commitment to the residents of our town, I've helped to increase the quality of services Hooksett provides to its residents.